The PSM degrees combine an interdisciplinary curriculum with business training and hands-on experience, enabling graduates to acquire a new "tool-set" for success in a business environment.
M.S. in Applied Chemical Sciences
M.S. in Bioscience and Health Policy
M.S. in Energy Geoscience
M.S. in Environmental Analysis
M.S. in Space Studies

The PSM program offers a broad and flexible curriculum:
Each program has a variety of focus areas and can be adapted to your career path

Support and guidance will be provided if you are not yet sure which area to focus on within your chosen program. Career paths options are available for our students.

For students interested in diving deeper into the management and business side of our program, an

MBA/MS coordinated degree

has been developed.
Dedicated staff: We pride ourselves on assisting our students throughout their stay at Rice! Our staff is there for you, we mentor, guide, and provide guidance on academic and non-academic matters.
Corporate Scholarships and Career Support:
Deciding to pursue a professional science master's degree at Rice is an investment in your future.

With Rice University being recognized globally and ranked under the top 20 universities doors open for our graduates.

We award 6 - 10 Corporate Partial Scholarships every year to full-time enrolled students.

We support the Yellow Ribbon Military Veterans Program
Professional Development and Networking Practice:
In close collaboration with the Rice Career Center, we provide many opportunities to meet with corporate representatives from industry and business related to our programs. We want to make sure that you make your career path a reality.
Professional Development and corporate info sessions are offered on a weekly basis.
We have nearly 300 employed alumni - most of them closely involved with our students assisting with resume and interview coaching, introductions, and career guidance
With access to our alumni, you will have access to an extensive corporate network.
Our Industry Board of Affiliates volunteers as mentors for our students.
Rice and the City of Houston offer a climate of diversity, inclusion, cultural enrichment, and a high standard in quality of life at still affordable prices:
Houston is the 4th largest city in the U.S. offering incredible cultural programs, theaters, museums, a strong economy with plenty of job opportunities, a dynamic workforce, diversity, and quality of life at an affordable price. We have 160 miles of connected bikeways, large parks, and access to the beaches of the Gulf of Mexico within a 45-minute drive.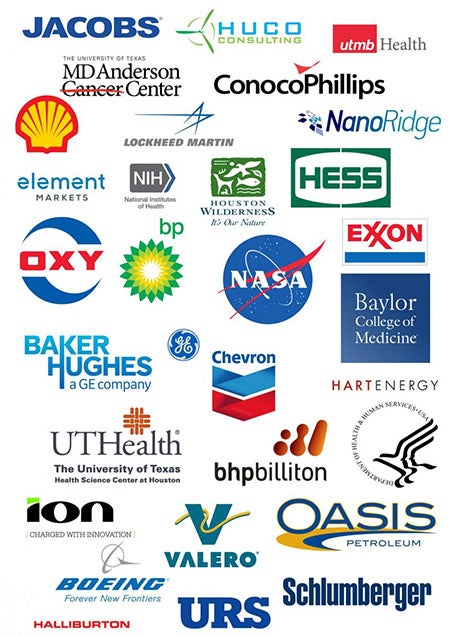 Internship and Job Placement
Our program prides itself in its robust placement of students in internships and jobs after graduation. A strong alumni network supports the program and the students and corporate networking opportunities are built into the program.
PSM Student Employment Snapshot:
95% of PSM students find employment within 6 months of graduation; 94% work in positions directly related to their degree focus area; the median starting salary for graduates ranges between $60,000 to $95,000 depending on the industry sector they choose, i.e. non-profit organization will not pay as much as jobs in the energy industry
Rice Facebook - Become a Fan!
Connect with us on LinkedIn