Tuition
The yearly graduate tuition at Rice University for the 2018- 2019 year is $38,000. The Professional Master's Program requires three semesters of tuition (total of approx $57,000) and a nominal fee to continue full-time student status during the semester that the student is involved in his or her internship.
Part-time enrollment is calulated on the per-credit rate. students wanting to enroll, are charged per credit hour. Part-time enrollment refers to enrollment of less than 9 credit hours during a semester. Students are also assessed a one-time per semester part-time enrollment fee.
A list of tuition and fees for the 2018-2019 academic year, including medical insurance fees, can be found at Cashier's Office
Sources of Financial Assistance
Because the Professional Master's Degree is a non-thesis (non-research) degree, Rice University does not offer tuition waivers, stipends, fellowships, or assistantships for this program, similar to MBA programs. Corporate scholarships are sometimes available and all accepted students are eligible to apply.

However, other sources of financial assistance exist, mainly in the form of loans. Visit the Rice Office of Student Financial Services for more information on loans, work-study programs, and outside sources of aid. As these degrees are considered STEM degrees, many grants and scholarships are available, especially for minorities and women. The salary received during the required internship can be used to offset some of the cost.

Loan options include federal subsidized and unsubsidized Stafford Loans, Perkins Loans, and private loans. International students are eligible for loans from commercial lending institutions if they have a co-signer who is a US citizen. If you have questions about which type(s) of loans may be best for you, please contact Student Financial Services at fina@rice.edu.
Other sources of financial assistance and information can be found at the following websites:
Return of Investment: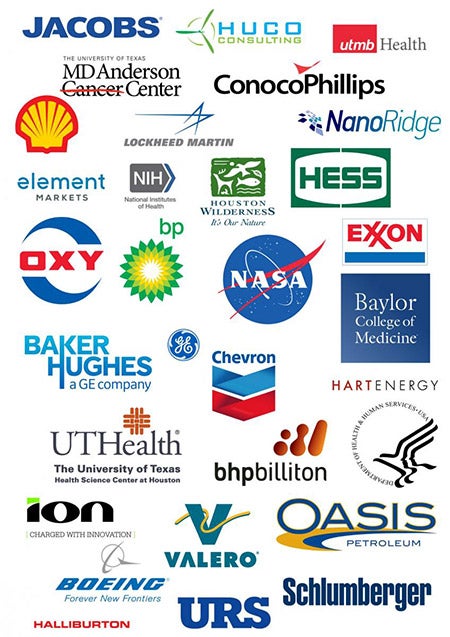 Internship and Job Placement
Our program prides itself in its robust placement of students in internships and jobs after graduation. A strong alumni network supports the program and the students and corporate networking opportunities are built into the program.
PSM Student Employment Snapshot:
95% of PSM students find employment within 6 month of graduation; 94% work in positions directly related to their degree focus area; the median starting salary for graduates ranges between $60,000 to $95,000 depending on the industry sector they choose, i.e. non-profit organization will not pay as much as jobs in the energy industry